Covid: France rolls out health pass as cases soar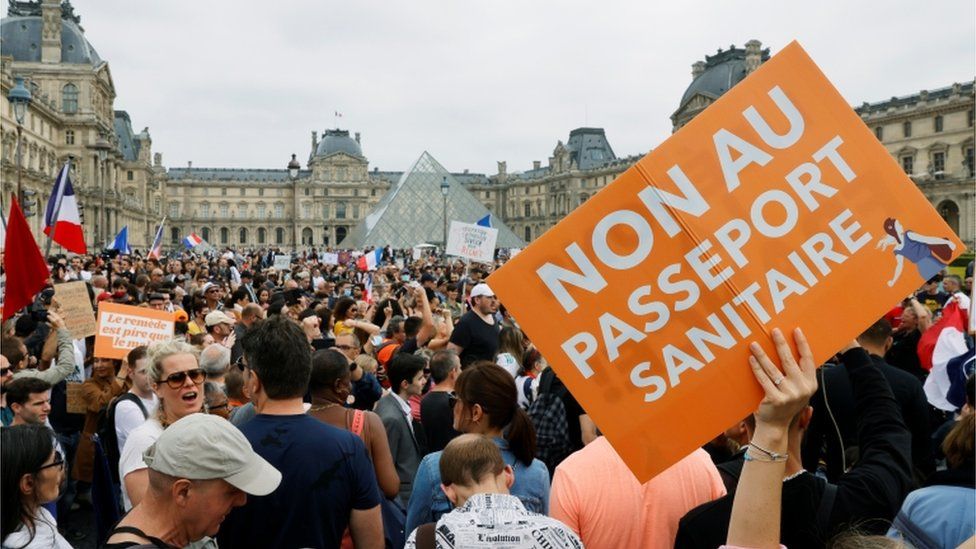 A new Covid health pass has come into effect in France amid a surge of new infections.
From Wednesday, people need proof of vaccination, a negative test or recent recovery from Covid to enter most museums and cinemas.
Later lawmakers will debate whether to extend its use in August for entry to cafes, restaurants and shopping malls.
It comes the day after Health Minister Olivier Véran announced 18,000 new infections in just 24 hours.
This was compared to fewer than 7,000 cases a day last week, a surge of 150%, as the highly contagious Delta variant spreads throughout the country.
"We have never seen this before," he told the National Assembly, saying Delta had led to far larger rises in cases than previous variants, like those first spotted in the UK or South Africa.


"Health Dictatorship" is what protesters here are calling it.
If the government has its way, in a few short weeks, you won't be able to sit down for a coffee at a Paris café – or board a train – without proof that you're Covid-free, vaccinated or immune.
This so-called Health Pass is the government's answer to infection rates that are rising faster than France has ever seen in this pandemic.
Already, from today, there'll be no routine access to cinemas, theatres, museums – no trips to Disneyland Paris – without it.
But it's the plan to extend that restriction to everyday public places – cafes, shopping centres and public transport – that's causing the biggest backlash.
Some MPs have reported receiving death threats ahead of the debate today.
And some protesters sparked fury last week by comparing these government restrictions to the singling out of Jews during France's war-time Nazi occupation.
A majority of French people appear to support the plan, with many believing it's the only way to avoid yet another lockdown.

Source: Covid: France rolls out health pass as cases soar – BBC News